Meet Dr. Thomas Tuzzolino
My Why, My Purpose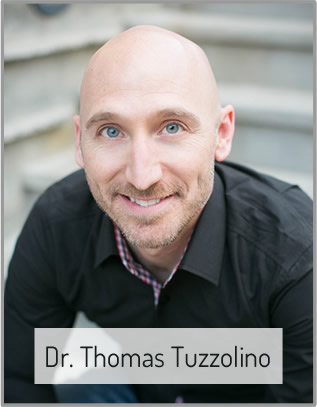 My journey into Chiropractic began back when I was 14 years old and suffered a neck injury playing football. I was taken off the field in a stretcher and brought to the hospital for testing. I was released and told to wear a neck brace and take some Ibuprofen. That's it…!!! Over the next 5 -6 years I dealt with neck symptoms until I went to a Chiropractor and was told I had a "Subluxation"- a mis-alignment in the bone in my neck that was causing nerve irritation. There I learned more about WHY it was important to get adjusted, not just for pain, but for overall wellness.
Even being into sports, fitness, health, and wellness, along with studying exercise physiology at the time I hadn't put two and two together about what makes us truly healthy. Through that Chiropractor I learned, what I already intuitively knew; that the body is a self-healing, self-regulating, self-maintaining organism that is controlled and regulated by the nervous system.
If there is an interruption in the nervous system, the body's ability to function fully is diminished. Every experience you have is through your nervous system and again, if interruption to the nervous system occurs the essence of life is diminished. I was made aware that Doctors of Chiropractic are the only health professionals that detect this interruption.
From that moment on I knew I was meant to be a Chiropractor! That is where my Chiropractic journey originated and from there I went on to graduate with honors from Southern California University of Health Sciences in Los Angeles and returned in 2004 to practice in the area I love to live, Scottsdale, AZ.
Pursuit of Excellence
I continue to read, educate, and grow my knowledge base to be able to help as many people as I possibly can in a safe, natural, drug & surgery free way. I look to inspire, promote and celebrate healthy lifestyles by guiding my practice members and my community to a new experience of life. I take an active part in my community by speaking to many groups, businesses, and organizations, both young and old, and enjoy contributing to charities my time and donations whenever possible.
It is my true purpose to create the ultimate healthcare experience through education and awareness of true optimal health and wellness as a result of a fully functioning nervous system so that we can all live the best life possible! Contact us today to get started!
International Academy of Medical Acupuncture, Fellowship in Acupuncture (September 2004-January 2005)
Southern California University of Health Sciences; Whittier, California
Doctor of Chiropractic (2001-2004)
Arizona State University; Tempe, Arizona Bachelor of Science (1994-1999)
Arizona State License in Chiropractic, Physiotherapy, and Acupuncture, 2005-present
Fellowship in Acupuncture, International Academy of Medical Acupuncture, 2005
Webster Technique
Elevate Chiropractic 2016 – Present
North Scottsdale Family Chiropractic 2008 – 2016
Associate Chiropractic Physician 2005 – 2008
American Chiropractic & Wellness Center, Scottsdale, Arizona
Clinical Externship 2004 – 2005
American Chiropractic & Wellness Center, Scottsdale, Arizona
SCU Intern Rotations 2004
Cerritos College and Pasadena SCU Health Centers
SCU Intern 2004
SCU Campus Health Center
Arizona Association of Chiropractic, 2005 – Present
Business Networking International, 2004 – 2015
(V.P. – Business Leaders of North Scottsdale – June 2008 – Sept 2009)
The Masters Circle Member, June 2008 – 2010
WelCare Foundation Volunteer August 2010 – 2011
American Pregnancy Association from 2016 – Present
International Chiropractic Pediatric Association 2016 – Present
Arizona Birth Network 2016 – Present
Holistic Pediatric Association 2016 – Present
Life University, Certificate of Proficiency in Pediatric and Family Chiropractic Care
University of Bridgeport, Neurological Dysregulation: How Subluxation Affects the Brain
The Science of Immunology and Vaccination
Texas Chiropractic College, Chiropractic Treatment of Auto Accident Injuries
New York Chiropractic College, Clinical Documentation and Management of the Personal Injury Patient: Recordkeeping and Patient History
University of Bridgeport, Chiropractic approach to the Management and Treatment of Headaches
Southern California University of Health Sciences, A New Look at Spondylolisthesis
Life Chiropractic College West, Validating Chiropractic
Texas Chiropractic College, Fundamentals of Clinical Nutrition
International Academy of Medical Acupuncture, Acupuncture )
Cox Flexion/Distraction
---
North Scottsdale Chiropractor Dr. Thomas Tuzzolino
Elevate Chiropractic | (480) 588-5111